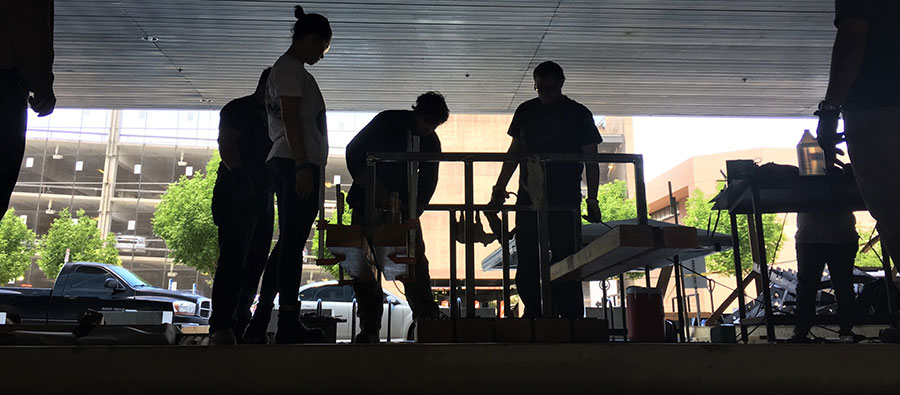 El Campo Del Oso Recreational Development
Spring 2017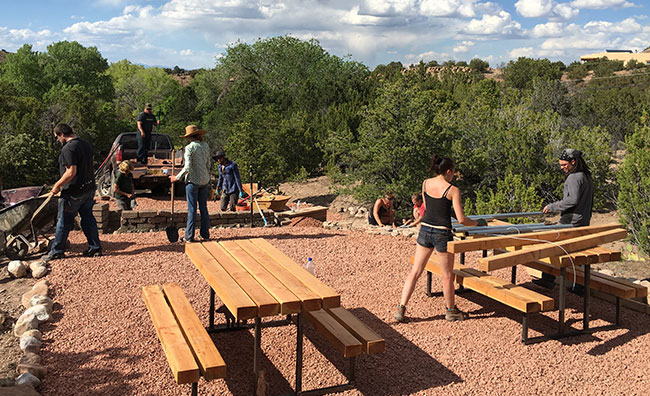 ---
PROGRAM: Bachelor of Arts in Environmental Planning and Design
STUDENTS: Christopher Benson, Laura Bubnar, Heather Elizabeth Byrne, Karen Lee Distefano, James Gabriel Florez, Karlie Danielle Gedig, Darrin Heller, Patricia Del Rio Jaen, Maya Rose Key-Towne, Sergio Lozoya, Kathleen Orndorff, Chloe Rae Podkanjak, Justin Rinaldi, Denisha Sanchez, Samantha Suzuki, Seth Tinkle
INSTRUCTORS: Andrew Bernard
---
Students designed and constructed an outdoor recreational area for the San Antonio de las Huertas Land Grant. Using site analysis and community engagement, students used the bear as their guiding design element throughout the site. After the designing process was complete, students fabricated and installed all camp elements for the land grant. The campsite now functions as an integral and evolving community gathering space.
---
In 2017, BAEPD capstones studio worked alongside the San Antonio de las Huertas Land Grant in Placitas NM to design and build the Oso Recreational Development. Students worked with the community, taking into account the area's histories and cultures to design an outdoor gathering space on the land grant. Based upon analyses, students established the Bear as the primary design element. Bear symbology is present throughout the design: bear silhouettes are present on the fire ring, the benches, and the entire site is designed in the shape of a bear paw.
The site is named El Campo Del Oso--The Bear's campsite. Students completed the semester with a two-day fabrication and installation day at the site. Grant officials will continue the second phase of the project in 2019.
Links